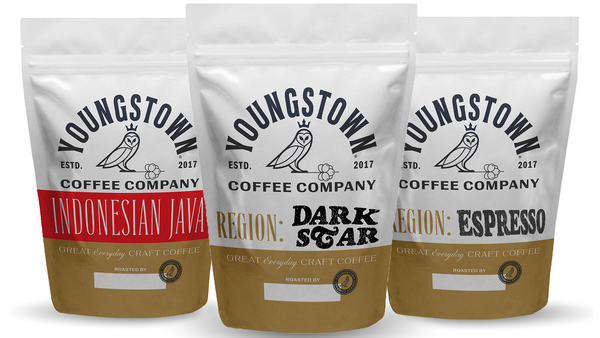 For the ones that can't choose between their favorite dark roasts, fear not! Our Best Dark Roast Bundle is just for you!
Dark Star- This dark roast has a very bold flavor with a smoky sweetness but is missing the bitterness usually associated with such a dark roast. Blended to be quite an intense cup of coffee, with notes of caramelized sugar and noticeably little acidity. For those who enjoy a very rich, full-bodied cup, perfect for after dinner with your favorite Maduro cigar.
Indonesian Java- Coffee has been grown on the Indonesian Island of Java since the Dutch began cultivation in the 17th century. Lighter, cleaner, and brighter in the cup, Java coffee is sweet, fragrant, and alive with nut, spice, and vanilla tones.
Nicaraguan Espresso- Delicious Nicaraguan beans roasted to perfection. With a distinct acidity, its creamy, velvety and sweet body brings a pronounced orange honey finish. It pulls a great shot, as well as makes a very full-bodied brewed cup of coffee.